Assign multimedia content to places, objects, rooms … Place a iBeacon in that space and create content associated with it. It's simple, and anyone can do it with the Calixtina platform.
The Beacons are small computers (tiny) that have two great qualities: they are cheap and consume little energy (battery can last two years).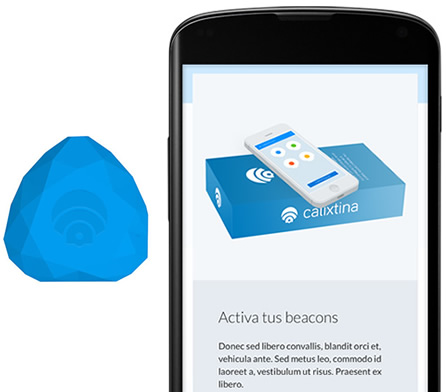 What are the Beacons and how they work?
The Beacons are indoor positioning systems that function as transmitters of low power and low cost, and can notify smartphones when they detect the presence of the person. This technology allows iOS or Android devices automatically receive push notifications (and contents) programmed by Calixtina users.
The Beacons of Calixtina include all standard and adds value: can be managed by anyone without any technical knowledge, just create an account and upload content that will trigger when approaching a user to a Beacon.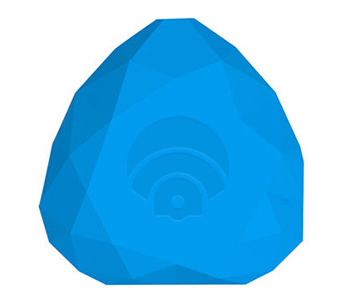 The Calixtina system proposes the configuration and construction of multimedia guides that allow users to be informed in-situ when approaching places or objects, all within the own phone users, it is not necessary to deploy a hardware infrastructure (such as audio guides rent in a museum).
In these "sensitive" walks, users in Calixtina may incorporate multimedia elements concerning the place where the visitor is. They can associate to places outside or indoors or concrete objects.
Therefore, any user can configure their own media events, and generate content transmissible APP users to any space or object.
Calixtina uses GPS technology to the outside (which includes any smartphone), also digital compass (user orientation) and accelerometers (user attitude). Multimedia content such as audio, video, photo galleries, text, etc. will be the multimedia elements "trigger" automatically when the user approaches the Beacon.
4 steps to create Calixtina experiences.
1
Create an Calixtina account
Once registered in the system the user can create geolocated events adding objects on a map or on a plan of a building. The user can also associate their Beacons.
The end user (recipient of the information) download the APP Calixtina, sign in with your registration data and can see and receive events, routes, browse them and play all media.
The users begins the walk. Press the Play mode and runs through the space interacting with the elements. Just need a headset. All that is needed is in the
A user from the APP or the Web application can sharea route on your social networks. When shared, the target user receives an email with parameters that will not only install the APP, it will automatically download the route.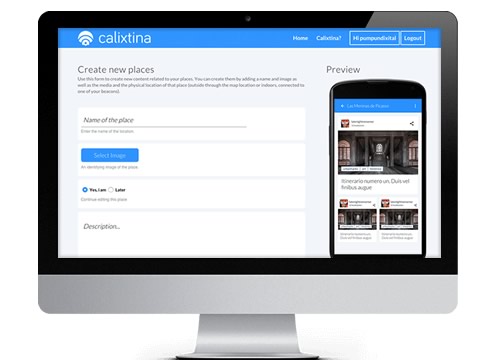 Our star web application (Calixtina APP), can generate multimedia content associated to a place outside or indoor spaces.
These contents associated with those places or Beacons may include audio, video, voice instructions, links to the outside, text, images and attitudes related to visitors: effects on the phone associated with gestures or movements, interactive games and other elements that enhance the walk experience.
Any Android device with Bluetooth 4.0 can be used as a multimedia guide. The vast majority of phones on the market at this time include all the specifications necessary to run Calixtina. Add headphones and enjoy multi-sensorial experiences. The APP has been programmed in native language, achieving outstanding performance.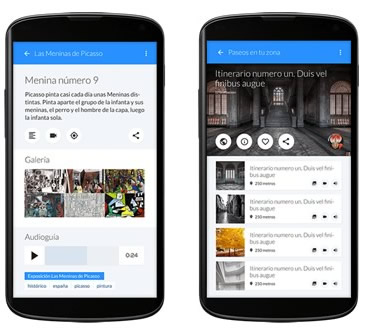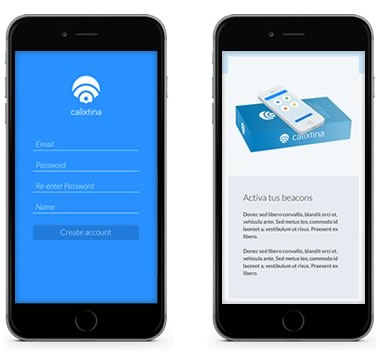 Apple devices are also ideal tools to become guides Multimedia.
Both iPhone (as personal tool) and iPad Tablets are candidates for museums, institutions or other places that decide to implement Calixtina in their spaces.